Roach Love
Review by Huayi Wei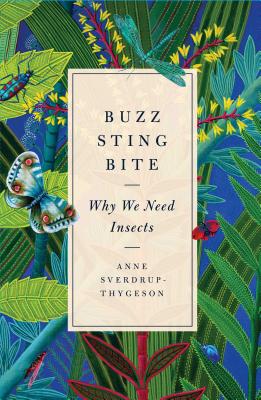 Publisher
Simon & Schuster
Year
2019
Pages
256 pages
List Price
$26.00
Links
Buzz Sting Bite
Why We Need Insects
Book by Anne Sverdrup-Thygeson
Scream, swat, stomp! That's how I react to the buzz, sting, bite of the insect world. For most of us, insects are intruders in our homes (cockroaches), thieves of our food (ants), and enemies that ruin our strolls in the park (bees). We are desperate to remove them from our lives. In fact, we have done such a good job that we are now in a crisis of insect decline.
Over the past 20 years, the number of bees in the U.S. dropped by 87 percent, and monarch butterflies by a whopping 90 percent. More unsettling than the demise of the insects we know is the disappearance of insects that we can't even see and don't yet understand. At a global level, more than 40 percent of insect species worldwide face extinction, as a recent study reported in the journal Biological Conservation. What does the decline mean? Why should we care?
I was eager for answers to these questions when I opened Buzz Sting Bite: Why We Need Insects written by ecologist Anne Sverdrup-Thygeson, and beautifully translated from Norwegian by Lucy Moffatt. Halfway through, though, something else in me clicked. This book isn't just about the scientific evidence and arguments for why we need insects. It's about something that most of us are missing: a genuine love of insects.
Through a witty collection of insect anecdotes, Sverdrup-Thygeson concocts a love potion to help her readers fall in love with the creepy-crawlies. She blends curious insect facts with Greek mythology, history of science, feminism, fairytales, ancient Chinese history, environmentalism, Bible stories, political satire, and cutting-edge research. She gives her readers the sensibility to open their hearts to insects. At the end of the book, she argues that protecting insects "is about more than mere utility value." We humans, she notes, "have a moral duty to rein in our dominance of the earth and give our millions of fellow creatures a chance to live out their tiny, wonderful lives."
Sverdrup-Thygeson is a professor at the Norwegian University of Life Sciences. Despite being her first book, Insektenes Planet (the original Norwegian title) was nominated for Norway's Brage Literature Prize in 2018, and will be available in more than 20 countries.
And no surprise. With her humorous and animated language, Sverdrup-Thygeson lures you into a portable garden of wonders. She introduces you to the water insect who plays himself as a fiddle, with "his abdomen as a string and his penis as a bow"; to the leaf beetle larvae who wears dung wigs that look like "Trump's hairdo"; to the spruce bark beetles who "don't need Snapchat or Messenger to tell each other where the party is." Through her lens, the alien-looking critters become entertaining and even somewhat relatable.
More curious than the critters themselves is how they interact with the world around them. To protect their roots from ants, oregano plants secrete an ant-repellant chemical, Sverdrup-Thygeson explains, which gives oregano its unique herbal flavor. This chemical repels most ants, but not the myrmica ants, for whom oregano has another plan. The chemical also attracts the Large Blue butterflies to lay ant-scented eggs on the oregano plants. Fooled by the ant smell, food-gathering myrmica ants carry the butterfly eggs back to the nest and nurse them like their own eggs, only to have the entire colony devoured when their adopted children hatch. "Who'd have thought that so much drama lay behind that scattering of green herbs on your pizza?"
As you marvel at the turns and twists of this story, you also find out about the role of butterflies and ants in the interlocking ecosystems they inhabit. That's the magic of Sverdrup-Thygeson's storytelling. She embeds her ecological knowledge in intriguing plots. Here and there, she slips in scientific arguments and her own research insights on the delicate relationships between insects and their environment.
Our own relationship with insects is even more complex. We humans have benefitted from insects since pre-biblical times. In addition to providing honey and pollinating plants, a bug called the tamarisk manna scale secretes a sugary fluid that was the origin of manna – the Bible's miracle food. The dung beetle scarabaeus sacer  was the "sacred scarab" of the ancient Egyptians, and beeswax held Icarus's wings in Greek mythology. Without inks made from gall wasps, we would never have seen Galileo's drawings or Beethoven's symphonies. Without the shellac from lac bugs, we would have no phonograph records. We humans stand on the shoulders of these six-legged giants.
Protecting insects is "a form of life insurance for our children and grandchildren," Sverdrup-Thygeson writes. Even in today's time of technological advancement, insects are indispensable in devising new medicines, from antibiotics to painkillers. There's still so much we don't know about insects, the author points out, and we don't know what we may find irreplaceable one day.
I enjoyed Sverdrup-Thygeson's enthusiasm, but as a squeamish reader, I found it tough to stomach her excitement about insects as the food of the future. I know people have been eating insects for a long time and that they might become a mainstream food source again — but calling them the sushi of the future goes a step too far.
Still, this book opened my eyes to the lovable side of insects I normally treat with disgust. They too, I learned, are respectable and rightful inhabitants of this planet. While there's no way I will stop screaming when I see a cockroach in my apartment, I find myself sometimes wondering if that tiny bug in the park has a fascinating story to tell.
Love them or hate them, it's already much rarer to see insects nowadays. We are wiping them out at an alarming speed with pesticides, land repurposing, artificial lights, invasive species and genetic manipulations. Much as I detest insects, Sverdrup-Thygeson convinced me that if we don't do something right now, we'll soon lose these scream-triggering and slap-inducing critters that buzz life into our earth.
---
 Huayi Wei is a Ph.D. candidate in Neuroscience at NYU. She also leads NeuWrite NYU– a collaborative writing group that brings together scientists and journalists. Despite this book, and studying the eyes of fruit flies for a living, Huayi is terrified of bugs.